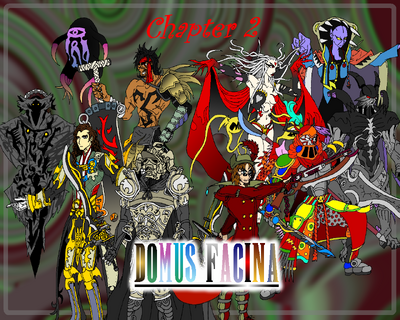 Chapter 2 is the second chapter of Domus Facina and lasts for 20 episodes. This chapter begins with the introduction of the Contractor, and ends directly before the Soldier's introduction. During this chapter, extra mainstream game villains are introduced. This means that other characters who could've been considered the main villains of the numbered Final Fantasy games make their appearance. This is also where the introductions for villains from mainstream games that came out after those of the main cast take place (FFXI and FFXII, in this case). Eight main characters and three minor characters were introduced in this chapter.
List of Chapter 2 Episodes:
Ad blocker interference detected!
Wikia is a free-to-use site that makes money from advertising. We have a modified experience for viewers using ad blockers

Wikia is not accessible if you've made further modifications. Remove the custom ad blocker rule(s) and the page will load as expected.