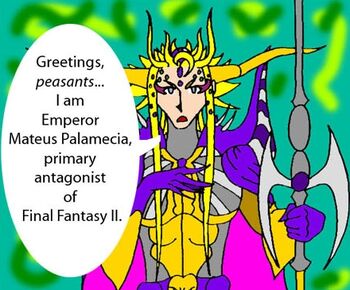 The third episode of Domus Facina allows Emperor Mateus Palamecia to introduce himself. He's hesitant about standing in front of a camera due to superstitions he's heard, but nonetheless maintains most of his composure during his intro. At the end, he states his infinite hatred for Kefka and Sephiroth in an extremely foul manner.
Characters Appearing in Episode:
Ad blocker interference detected!
Wikia is a free-to-use site that makes money from advertising. We have a modified experience for viewers using ad blockers

Wikia is not accessible if you've made further modifications. Remove the custom ad blocker rule(s) and the page will load as expected.