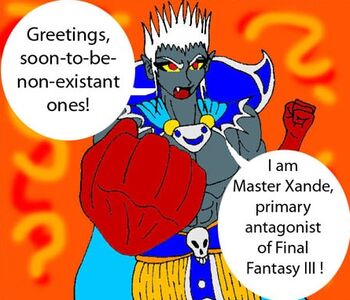 The fifth episode of Domus Facina introduces Xande, the underappreciated main villain of Final Fantasy III. After attempting to convince the audience that he was the coolest character in the series, Sephiroth shows up and scares the crap out of him politely asks him to rephrase his statement. After explaining his story to the readers, he asks them if they like him now, and cricket chirping ensues.
Characters Appearing in Episode:
Ad blocker interference detected!
Wikia is a free-to-use site that makes money from advertising. We have a modified experience for viewers using ad blockers

Wikia is not accessible if you've made further modifications. Remove the custom ad blocker rule(s) and the page will load as expected.