"Please, don't fret. The day you take your last breath surely approaches. I will ensure that. In the meantime, please, enjoy the fireworks show we've got planned for you all. I'm sure you'll find it most delightful."
-Fuhito
Fuhito is the main antagonist of Before Crisis -Final Fantasy VII-, and is the thirty-first Final Fantasy villain to appear in Domus Facina, having been introduced in Episode 0080.
Appearance
Edit
Personality
Edit
Fuhito uses a pistol charged with Mako energy, but he did not bring it to Domus Facina.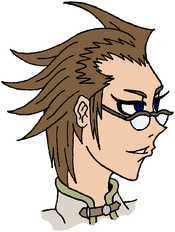 Before Crisis -Final Fantasy VII-
Edit
Domus Facina
Edit
Ad blocker interference detected!
Wikia is a free-to-use site that makes money from advertising. We have a modified experience for viewers using ad blockers

Wikia is not accessible if you've made further modifications. Remove the custom ad blocker rule(s) and the page will load as expected.