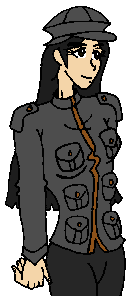 Kitty Maverick is an original, yet extremely minor character in Domus Facina. She is the fictional incarnation of Creatorsoul, one of the comic's readers. She gained the privilege of appearing in the comic when she won the first Domus Facina Fanart Contest. As a reward, she got to spend an episode with the Landlord, who she specifically requested to be seen with.
Ad blocker interference detected!
Wikia is a free-to-use site that makes money from advertising. We have a modified experience for viewers using ad blockers

Wikia is not accessible if you've made further modifications. Remove the custom ad blocker rule(s) and the page will load as expected.